Update 4/1/2022: Regas, Derik, and Mey's sponsorship pages have disappeared, which probably means they are no llonger part of Compassion's sponsorship program.
Welcome to Sponsorship Saturday, where, every Saturday, I hope to highlight one or more kid living in poverty and in need of sponsorship, in hopes of finding sponsors for them.
Please share these posts so that many people can become aware of people living in poverty and hopefully take action! Sharing is so easy, but can make a world of difference!!
Please note that it is my intention to both help the kids I spotlight, by spreading the word about their needs, and how others can help, and also, to honor the individuals I'm advocating for in my wording and the info I mention here. If you see anything that I've missed, or that I could do better to accomplish this goal, you are welcome to let me know in the comments.
This Saturday, I'm sharing two brothers, and one little girl. They all live in Indonesia, and are waiting for sponsors through Compassion International- maybe you?
I'd like you to meet brothers Regas and Derik!
Visit Regas's sponsorship page here: https://www.compassion.com/sponsor_a_child/child-biography.htm?gid=09230175
Visit Derik's sponsorship page here: https://www.compassion.com/sponsor_a_child/child-biography.htm?gid=09227116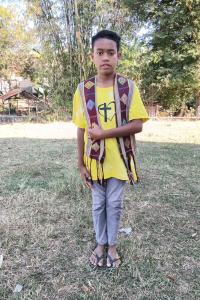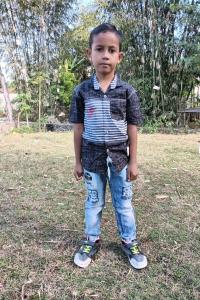 Actually, the fact that Regas and Derik are siblings means that sponsorship is especially important for them! Generally, Compassion doesn't register siblings, so it's rare for there to be siblings waiting for sponsorship. Since two kids from the family are registered, their family is probably one of the most in need. You could sponsor either Regas or Derik individually, or both of them. Either would make a difference!
Regas is 9 years old. Derik is 3 years old. Regas and Derik live with their family in the diverse Alor Island, in Indonesia.
Most people in their area are subsistence farmers, who raise maize, rice, millet, cassava, pigs, goats and chickens. Common crafts include wood carving, basket making, pottery and ikat weaving.
Regas and Derik probably speak Indonesian.
Regas's favorite hobbies include ball games, bicycling, and toy cars.
He helps at home with animal care, kitchen help, and cleaning.
Some of Derick's favorite things to do are running and playing with toy cars.
Neither of the brothers' parents are currently consistently employed, so sponsorship is especially important for Regas and Derik!
Sponsorship will allow a local church to provide Regas and Derik with things such as food, clean water, clothing, housing, school support, fun activities, income generating classes for parents, and anything else they need to succeed in life!
Regas and Derik have been waiting 527 days for a sponsor.
You can sponsor Regas or Derik individually for $38 a month, or you could sponsor both of them for $76 a month!
Check out this fascinating article on Alor Island: https://factsanddetails.com/indonesia/Places/sub6_10f/entry-6811.html
I'm also sharing baby Mey! Visit her sponsorship page here: https://www.compassion.com/sponsor_a_child/child-biography.htm?gid=09371857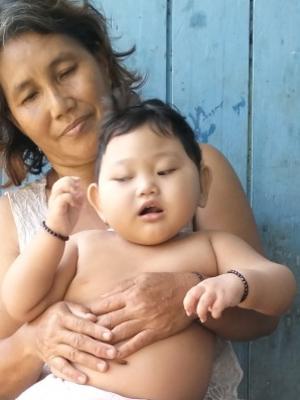 Mey is 1 year old, and lives with her family in the riverside community of Dempar, near Samarinda, in southern Indonesia.
Most houses in the area are made of wood and have tin roofs.
Mey and her family probably eat fish, plantains, and rice on a daily basis. Mey speaks Indonesian.
Mey has made it through her first year- one of the most vulnerable times in life for a human living in poverty. At this age, having someone to assist her family in caring for her can still mean the difference between life and death. Sponsorship provides for a trained Survival Specialist from her local church to visit Mey every month at home.
These specialists provide access to much-needed immunizations and medical care, as well as food and water to meet critical physical needs. They also lend emotional and spiritual support to family members committed to caring for her. Sponsorship will give Mey a strong, healthy start, early in life when it can have the biggest impact!
As Mey grows older, sponsorship allow a local church to provide her with Bible teaching, Easter and Christmas celebrations, medical checkups, nutritious food, sports, outdoor activities, tuition, school equipment, English classes, tutoring, music and dance lessons, handicraft classes and opportunities to visit orphanages and sick children. The center staff will also provide income-generating programs for Mey's parents.
You can sponsor Mey for $38 a month!
Here's an article from the Compassion Blog on Regas, Derik, and Mey's country, Indonesia: https://blog.compassion.com/fun-facts-about-indonesia/
Giving, praying, and sharing are three great ways to help Regas, Derik, and Mey, or other kids living in poverty.
Please do consider sharing this post or sponsoring Regas, Derik, or Mey! I would appreciate it so much!
Of course, sponsorship is not for everyone, but that isn't the only way to help. Maybe you could share? Maybe you could pray?
Thank you so much for reading!
-Clara