Update 8/28/2021: Marisa has been sponsored!
Welcome to Sponsorship Saturday, where, every Saturday, I hope to highlight one or more kid living in poverty and in need of sponsorship, in hopes of finding sponsors for them.
Please share these posts so that many people can become aware of people living in poverty and hopefully take action! Sharing is so easy, but can make a world of difference!!
Please note that it is my intention to both help the kids I spotlight, by spreading the word about their needs, and how others can help, and also, to honor the individuals I'm advocating for in my wording and the info I mention here. If you see anything that I've missed, or that I could do better to accomplish this goal, you are welcome to let me know in the comments.
This Saturday's highlighted child is sweet Marisa, who lives in Mexico, and is registered with Compassion International's sponsorship program! Visit her sponsorship page here: https://www.compassion.com/sponsor_a_child/child-biography.htm?gid=08414650&source=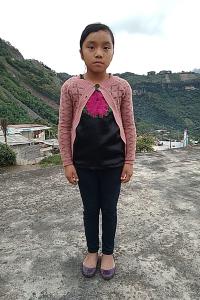 Marisa is 6 years old, and lives with her parents and two siblings in mountainous community of Colonia Puebla, Municipio de Chenalho Chiapas, near San Cristobal de las Casas, in Mexico.
Most houses in the area are made up of dirt floors, wood walls, and tin roofs.
Marisa and her family probably eat maize, beans, chicken and rice.
Marisa speaks Spanish.
Her favorite hobbies include running and singing.
She helps at home with child care and cleaning.
Common health problems in Marisa's community include dengue, gastrointestinal illnesses and respiratory diseases. Most adults work on plantations and earn the equivalent of $21 per month. This community needs libraries, vocational training centers, employment opportunities and substance abuse prevention and rehabilitation programs.
Marisa's parents are currently not consistently employed, so sponsorship is especially important for Marisa!
Sponsorship will allow a local church to provide Marisa with Bible classes, health screenings, hygiene and health education, sports, values and character trait programs, community service opportunities, field trips, school supplies, academic reinforcement in math and Spanish, homework supervision and special celebrations.
You can sponsor Marisa for $38 a month!
Check out this cool article about the culture of Marisa's country, Mexico: https://blog.compassion.com/fun-facts-about-mexico/
Giving, praying, and sharing are three great ways to help Marisa, or another kid living in poverty.
Please do consider sharing this post or sponsoring Marisa! I would appreciate it so much!
Of course, sponsorship is not for everyone, but that isn't the only way to help. Maybe you could share? Maybe you could pray?
Thank you so much for reading!
-Clara