Welcome to Sponsorship Saturday, where, every Saturday, I hope to highlight one or more kid living in poverty and in need of sponsorship, in hopes of finding sponsors for them.
Please share these posts so that many people can become aware of people living in poverty and hopefully take action! Sharing is so easy, but can make a world of difference!!
Please note that it is my intention to both help the kids I spotlight, by spreading the word about their needs, and how others can help, and also, to honor the individuals I'm advocating for in my wording and the info I mention here. If you see anything that I've missed, or that I could do better to accomplish this goal, you are welcome to let me know in the comments.
Today, I'm sharing about two boys from Ghana, who are part of Compassion International's sponsorship program there!
Meet Nhyiraba Here!
Nhyiraba is 6 years old, and lives with his parents and 4 siblings in the rural community of Dominase, in southern Ghana.
Most houses in the area are made up of cement floors, mud walls and metal roofs.
Common foods in the area that Nhyiraba probably eats on a daily basis include maize, beans, beef, cereal, plantains and bananas.
Nhyiraba probably speaks Wassa or English.
His favorite hobbies include musical instruments!
He helps at home with carrying water.
Adults in Dominase make a living by farming, raising livestock, working as day laborers, selling goods and, in some cases, mining illegally. The average family income is equivalent to about $20 per month. People have chosen illegal mining due to the lack of other jobs, and the chance to make an income by mining has motivated youths to drop out of school. This community needs economic support to afford medical care as well as a library to help raise the low academic performance of students.
Sponsorship will allow a local church to provide Nhyiraba with Bible teaching, health education, basic life-skills training, schoolbooks, uniforms, tutoring, art and music activities, athletics and community service opportunities. The staff will also provide lessons on parenting and animal keeping for Nhyiraba's parents.
Neither of Nhyiraba's parents are currently consistently employed, so sponsorship is especially important for him!
Nhyiraba also has some sort of special needs, which only heightens the challenges of living in poverty for him. Please consider sponsoring Nhyiraba so that money is not an obstacle in him getting all he needs to thrive!!
You can sponsor Nhyiraba for $38 a month!
Here is Gabriel's sponsorship page!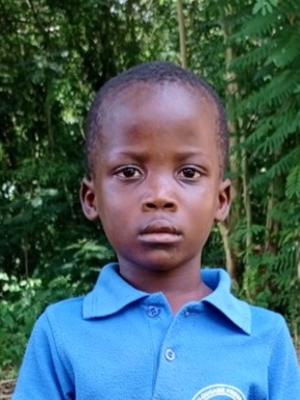 Gabriel is 3 years old, and lives in Ghana.
Gabriel may speak Akans.
Some of Gabriel's favorite things to do are soccer and football!
He helps at home with running errands.
Challenges for children growing up in Ghana include that waterborne diseases are common, because clean water and sanitary practices are inadequate. At least 8,000 children die annually from diarrhea and pneumonia. Fewer than 15 percent of homes have access to a bathroom with a toilet and running water. Another challenge is that child abuse and trafficking are on the rise in Ghana. Many children are exploited through hazardous work. And 50,000 children are living — and sometimes working — on the streets. This means that sponsorship for Gabriel and Nhyiraba is very important!
Sponsorship will allow a local church to provide Gabriel with things such as Bible teaching, nutritious food, clean water, sanitation facilities, protection, clothing, medical care, housing, educational support and vocational training, fun activities, income generating classes for parents, and anything else he needs to succeed in life!
You can sponsor Gabriel for $38 a month!
Check out This article about the culture of Gabriel and Nhyiraba's country, Ghana! Go Here to learn more about Compassion's work in Ghana!
Giving, praying, and sharing are three great ways to help Nhyiraba, Gabriel, or another kid living in poverty!
Please do consider sharing this post or sponsoring Nhyiraba or Gabriel! I would appreciate it so much!
Of course, sponsorship is not for everyone, but that isn't the only way to help. Maybe you could share? Maybe you could pray?
Thank you so much for reading, and have a wonderful Easter!
-Clara