Update 8/28/2021: Loyloy is now sponsored!
Welcome to Sponsorship Saturday, where, every Saturday, I hope to highlight one or more kid living in poverty and in need of sponsorship, in hopes of finding sponsors for them.
Please share these posts so that many people can become aware of people living in poverty and hopefully take action! Sharing is so easy, but can make a world of difference!!
And, of course, please keep the Sponsorship Saturday kids and their families in your prayers.
I'll be highlighting kids from many different countries, registered with multiple sponsorship orginizations including Compassion International, World Vision, and Holt International.
Please note that it is my intention to both help the kids I spotlight, by spreading the word about their needs, and how others can help, and also, to honor the individuals I'm advocating for in my wording and the info I mention here. If you see anything that I've missed, or that I could do better to accomplish this goal, you are welcome to let me know in the comments.
This Saturday's highlighted child is Loyloy, who lives in the Philippines, and is registered with Compassion International's sponsorship program! Visit his sponsorship page here: https://www.compassion.com/sponsor_a_child/child-biography.htm?gid=08038371&source=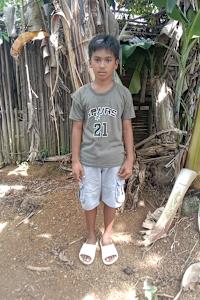 Loyloy is 9 years old, and lives with his family in mountainous community of Libertad National Highway, in Tacloban City, in the Philippines.
Most houses in the area are made up of wood and have tin roofs.
Loyloy and his family likely eat bananas, chicken, fish, cassava, rice and potatoes on a daily basis. Loyloy probably speaks Cebuano.
Loyloy helps at home with carrying water, and running errands.
His favorite hobbies include basketball, group games, running, doing arts & crafts, learning about God, playing games, and snack/meal time.
Sponsorship will allow a local church to provide Loyloy with Bible teaching, food, medical and dental checkups, film showings, children's camp, sports, group activities, field trips, educational assistance, computer classes, skills training and arts and crafts. The center staff will also provide Bible studies and family counseling for Loyloy's parents.
You can sponsor Loyloy for $38 a month!
Click on this link to find out more about Loyloy's country, the Philippines: https://blog.compassion.com/facts-about-the-philippines/
Giving, praying, and sharing are three great ways to help Loyloy, and other kids living in poverty.
I would appreciate it so much if you would consider sharing this post or sponsoring Loyloy!
Of course, sponsorship is not for everyone, but that isn't the only way to help. Maybe you could share? Maybe you could pray?
Thank you so much for reading!
-Clara